Amstek Metal is a multi-location Service Center established in July 1987 to provide distribution of high quality engineered wire and strip products to precision metal fabricators in the Midwest and East Coast of the United States. Amstek Metal is owned and operated by Charles G. Stevens Co. which was founded in 1898. Four generations of Stevens family members have been actively engaged in the business of specialty steel sales and distribution at both Stevens Co. and Amstek Metal.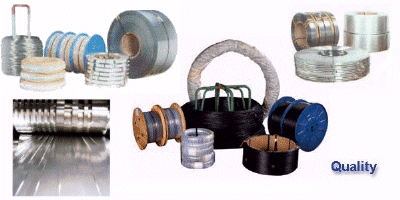 Acting as both a mill supplier and stocking warehouse, Amstek Metal is the perfect partner for those precision metal fabricators who are seeking to decrease hassle and variation by working closely with vendors who meet the international accreditation standard. Amstek Metal's own supply base is composed of selected and qualified mills, nearly all of whom have been certified to ISO 9001:2000 and have also proven themselves capable of producing consistent high quality product.
Amstek Metal personnel have been implementing a formalized continuous quality improvement process for over 12 years. Management is highly committed to working closely with customers for 100% satisfaction in meeting mutually established goals.
Amstek Metal is a Proud Member of: